Child Nutrition: When and How
healthy foods for children
It's never too early to focus on your child's nutritional needs. The real question is: How and when can they get what they require?
healthy breakfasts for children
The first meal of the day is a good time to give your children at least one food high in fibre. Follow the "rule of threes" by offering three of the five food groups. Whole-grain breads or fibre-containing cereals, and fruit and cheese or yogurt are all great options. If you can, skip the fruit juice — it's typically high in calories and sugars and has fewer nutrients than whole fruit. And of course, don't forget the full cream milk!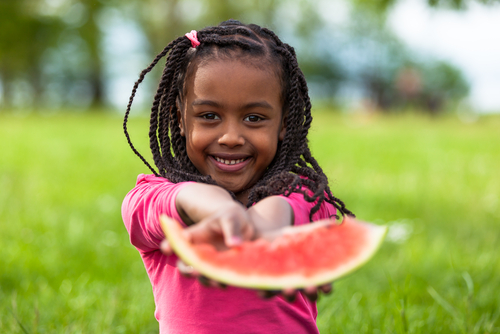 healthy lunches for children
Use whole-grain breads and rolls to make healthy, delicious sandwiches. Whole grains increase the total fibre in your child's diet and are less processed than enriched white bread. Give your child whole-grain crackers with soups, and always serve fresh fruit (with the skin) with meals instead of chips or other high-calorie, low-nutrient side dishes. Be sure to serve full cream milk with the meal.
healthy dinners for children
One of the first rules of a healthy dinner is to include a mix of the big three: carbohydrates, protein, and fat. Carbohydrates should come from at least one fruit or vegetable, or a whole grain; protein should be lean, and fat should be heart-healthy, like olive oil. Many nutrients make food colourful — so if your dinner plate is full of colours, you're on the right track.
healthy snacks for children
Get rid of the junk food and bring out the healthy (and yummy) snacks! Check out these kid-friendly snack ideas that will keep you and your little one happy.
Healthy Treats: Sneak some fruits and veggies into your kid's favourite baked goods. Banana bread, zucchini muffins, and carrot cake are a few ways to disguise foods that might otherwise get a big "Yuck!" from your picky eater.

Whole-Grain Cereal: The vitamins, calcium, and fibre in a bowl of enriched cereal with full cream milk and fresh fruit makes it a power-packed snack that's sure to keep your kid smiling.

Crunchy Snack Mix: Throw together a healthy combination of nuts, pretzels, cereal, popcorn, and banana chips for a tasty, portable snack. Nuts contain minerals — like magnesium, iron, and zinc — essential to your child's diet.

Veggies and Dip: Children love anything that's hands on, so dipping is always a good idea. Carrots, celery sticks, cucumbers, and cherry tomatoes will disappear before your eyes if there's a dip to go with them. Try cottage cheese or hummus.

Peanut Butter: Peanut butter is packed with fibre and protein. Try spreading it on whole-wheat crackers or celery sticks, and top it off with some sweet and chewy raisins.

By broadening the menu and providing a variety of tasty yet healthy foods, you not only ensure better nutrition for your child, but also encourage better eating habits they can carry on through life.
Looking for mealtime ideas? Check out these PediaSure® Recipes from moms like you.